What did you think of this game?
2010 World Cup
Dress up
2010 World Cup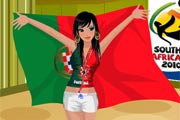 The World Cup 2010 is taking place first on the African continent and as hosts South Africa. This sporting event is on the most effervescent days. It is really a very exciting festival for everybody over the world. Which team are you rooting for Lets pick the right uniform and accessories for your favourite national team BowBie will help you score it Wish you a nice time

This game does not yet have any comments!