What did you think of this game?
3 Way Mirror
Dress up
3 Way Mirror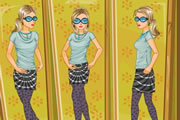 Being a famous model you have to make sure youre dressed to perfection and look good from all angles. Use the 3 way mirror to find the perfect outfit Make sure she looks good we dont want her to lose her spectacular reputation for her absolute perfection in fashion on.
This game does not yet have any comments!