What did you think of this game?
3D Garden Decoration
Decorating, Garden
3D Garden Decoration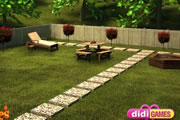 When the weather gets warmer and lovelier, it can only mean one thing this is the perfect chance for your to hang out in your own garden and enjoy the sun. What if, while youre filling your lungs with fresh air, you could also delight your eyes with the sight of your nicely, chicly decorated garden Just start playing the 3D garden decoration game and youll gather all the tips and tricks that you might need to give your garden a major face lift. All you need to do is simply give some clicks on those lovely green or blossomed trees, then another few clicks, till youve found the perfect garden swing for your future moments of relaxation in the open air, then some more on that barbecue grill, till youve decided upon the one that will be your precious little helper during all those cool barbeque parties that youll throw in your stylishly decorated garden this season. Continue the 3D garden decoration game with the selection of the right tiles that make like the perfect team with the fresh green grass, then go for a stylish wooden coffee table that will add a little bit of chicness to all your future morning coffee session in the garden. For a change of perspective, switch from floor to 3D view whenever you want to
This game does not yet have any comments!