What did you think of this game?
A Day In Paris
Dress up, Make up, Makeover
A Day In Paris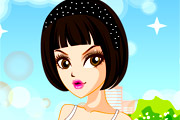 The weather in Paris in spring is very beautiful. Bianca is lucky because today there is no rain either and sun is shining over the Eiffel. Its a beautiful day to go for a walk around ChampsElysee though, lets prepare her before she goes out
This game does not yet have any comments!