What did you think of this game?
A Story About Halloween
Dress up, Make up, Couple, Halloween, Holiday
A Story About Halloween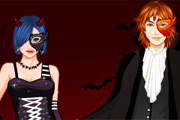 Guess who are going to be on the next cover of the lifestyle magazine Wonderful Life My boyfriend and me We have been chosen the most stylish Halloween couple at the party and they took many photos of us. It is going to be a good memory for us
This game does not yet have any comments!