What did you think of this game?
A Story About High School
Dress up, Make up, Makeover
A Story About High School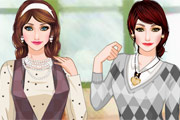 Wonderful Life magazine wants to interview Adrina and Camelia this month The sisters both attended one of the best high schools in Italy. And then they successfully continued their education in a reputable university, and they studied fashion design. Now they have their own brand of clothing Isnt it wonderful
This game does not yet have any comments!