What did you think of this game?
Adorable Twins
Dress up, Couple
Adorable Twins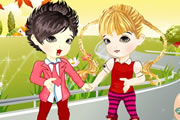 Ruby and Andy are twins and they always love to play together. Today they plan to visit a good friend, who lives near the park. Before they get going, help them to dress nice and sharp by choosing hair style, tops and bottoms, shoes and other accessories for them. With your help, they will look absolutely cute and adorable. Have fun
This game does not yet have any comments!