What did you think of this game?
Aegean Sea Travel
Dress up, Make up, Makeover
Aegean Sea Travel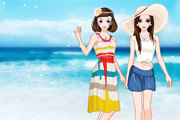 Finally its the holiday time for us. We deserved to have a cruise trip, and were doing this Today were heading to the most beautiful beach of Thailand. Look at our wardrobe please, were waiting for your help to prepare for this lovely day on the beach
This game does not yet have any comments!