What did you think of this game?
After Party Cleaning
Skill, Decorating
After Party Cleaning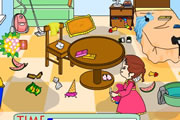 Yesterday is little Juliets birthday. Look at her room. After her birthday party, it is so litter. She wants to clean it thoroughly to make it tidy. It is her first time to do this kind of job. Would you like to help her finish this task wonderfully What you have to do is just to tell her to place these things in order. Take action, please Looking forwards to your great performance
This game does not yet have any comments!