What did you think of this game?
Agent P
Dress up, Cartoon
Agent P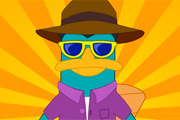 Here is Phineas and Ferbs docile pet platypus, Perry the Platypus You can call him Agent P He lives a double life as a secret agent and works for the Organization Without a Cool Acronym, as known as the Agency. Today his superior, Major Monogram gave him a top secret mission Help him disguise for this important task
This game does not yet have any comments!