What did you think of this game?
Air Hostess Make Up
Dress up, Make up, Makeover
Air Hostess Make Up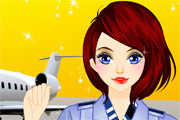 Did you realize that air hostesses are always very well cared and they almost look like models They are stylish as well, they must be, though. Now meet Alina, she is a hostess too and soon will be going to Italy. Can you prepare her and make her makeup
This game does not yet have any comments!