What did you think of this game?
All About Love
Dress up, Love
All About Love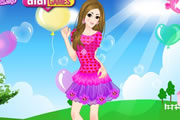 Alexandria is all about love She has met a wonderful new boy and is daydreaming of him She has some gorgeous pink and red clothes to choose from that suit her loving mood. Have fun helping her pick out the perfect outfit
This game does not yet have any comments!