What did you think of this game?
All Grown Up
Dress up, Toys, Dolls
All Grown Up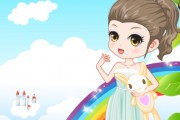 Who doesnt want to be a grown up, huh But are you sure that you can throw off your favorite toys Well, before you all grow up, lets take a picture once again dressup and get your favorite one. Smile
This game does not yet have any comments!