What did you think of this game?
Alps Ski Tour
Dress up, Winter, Snow, Sport
Alps Ski Tour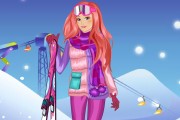 This is a perfect chance to decide what to wear on a ski trip I know you will all benefit from this holiday and spend a great time with your family But before pack your bag, you should take a look at those outfits. They may help you find the perfect look
This game does not yet have any comments!