What did you think of this game?
Always in Harmony
Dress up, Music
Always in Harmony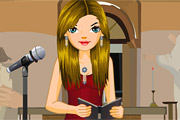 When I was a little girl, I loved listening to church choir and singing the hymns on Sundays. Now I sing solo in the schools choir. My first performance will be in a chapel on Saturday. It is fantastic I have to look perfect
This game does not yet have any comments!