What did you think of this game?
Alyssa Milano Dress Up
Dress up, Celebrity
Alyssa Milano Dress Up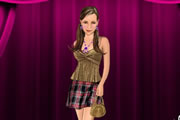 Help Alyssa Milano dress up in celebrity fashion for the red carpet. Use some of her stunning clothing items and accessories to make her look at her best. Use your mouse and click on the category tabs to choose the items you like best. Enjoy playing this fun celebrity dresses up game
This game does not yet have any comments!