What did you think of this game?
Amazing Late Art
Cooking, Puzzle, Skill
Amazing Late Art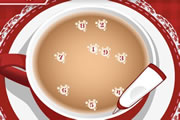 Its amazing how artists can draw fascinating pictures using milk on a cup of coffee. Guess what You can do it, too Connect the dots by sequence in due time and a beautiful picture would appear in your coffee cup Sounds interesting Play this fun game and enjoy your Latte art
This game does not yet have any comments!