What did you think of this game?
Amazing Violin Girl
Dress up, Make up, Makeover
Amazing Violin Girl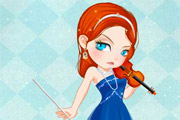 Anna has been playing violin since childhood and now she is going to have a concert to a huge audience. There are going to be many people listening to her and she also has to look good to impress them
This game does not yet have any comments!