What did you think of this game?
Amazon Girl
Dress up, Make up, Makeover
Amazon Girl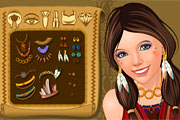 Camilla belongs to an Amazon tribe. According to their traditions, they will celebrate the coming of summer by lighting a fire outdoors, dancing and having a feast of food Can you give her the best look
This game does not yet have any comments!