What did you think of this game?
American Football
Make up, Dress up, Football, Sports
American Football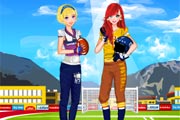 Who said that girls cant play football These girls are rocking on the field But they have a little problem champions want to look amazing on their last game. It doesnt matter if they win or lose they have got talent and they want to be trendy as well
This game does not yet have any comments!