What did you think of this game?
American Girl Doll
Dress up
American Girl Doll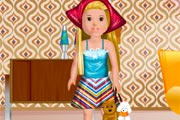 Meet Julie Albright, one of the American Girl Dolls, representing the 1970s. She likes to decorate and create artistic things. She plays basketball, reads a lot and dreams about being the president of the USA. What do you think about her fashion sense
This game does not yet have any comments!