What did you think of this game?
American Indian Style
Make up, Dress up, Makeover
American Indian Style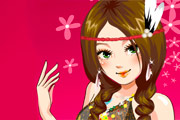 One of my friends is throwing a summer party. I have got the invitation, and cant wait to attend this party But my friend has a condition everyone must come in American Indian style Lets buy a fancy and glam costume
This game does not yet have any comments!