What did you think of this game?
Angel Bride
Dress up, Make up, Makeover, Couple, Wedding
Angel Bride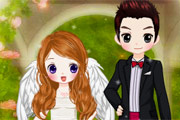 Choosing a decoration theme for your wedding is tough, unless you are an angel and have wings Katy and his fiance are getting married above the clouds They planned everything perfectly. They just need an angelic style
This game does not yet have any comments!