What did you think of this game?
Angel Devil Girl Jamie
Dress up
Angel Devil Girl Jamie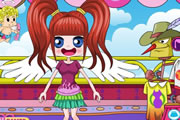 There are all sorts of games where you are able to dress all kinds of professionals, but never someone who works at the circus. In this career fashion game you have to dress a girl who works as at the circus and is best buds with all the animals there.
This game does not yet have any comments!