What did you think of this game?
Angels and Demons
Dress up, Make up, Couple
Angels and Demons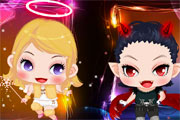 We all have an angel and a demon on our shoulders. They tell us to do something or not to do. Who are you going to listen to today These cute pupils are preparing for a theatre performance, they will be the angel and the demon, and it wont be easy
This game does not yet have any comments!