What did you think of this game?
Anime Boat House
Dress up
Anime Boat House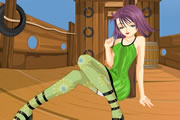 You are taking a trip on the only boat that will take you to the island where you grew up. Fortunately its a Boat House which means you can get ready for your arrival. Choosing what to wear for such an occasion should prove a little difficult considering you have not seen your family for 5 years. Make sure you choose the right clothes for your reunion with your family.
This game does not yet have any comments!