What did you think of this game?
Anime Girl
Dress up
Anime Girl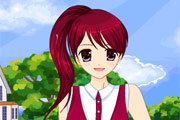 Large eyes, exaggerated expressions, tall bodies with tall limbs. All these are characteristics of anime character design. Well, although there are trends for how characters look in an anime, there is not one yet for what they wear.
This game does not yet have any comments!