What did you think of this game?
Anna Train Station Anime
Dress up
Anna Train Station Anime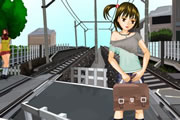 This dress up styled game is all about the Anime style. Putting together the right items will make one of the coolest Anime styled outfits around. Mix and match all the different items of clothing to find the right combination of items. If you get it right all her friends will be amazed with what shes come up with Lets see what youve got when it comes to Anime style fashion.
This game does not yet have any comments!