What did you think of this game?
Anne of Green Gables
Dress up, Cartoon
Anne of Green Gables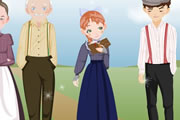 The young freckled Anne, with her long red hair and braids, doesnt like her own appearance but maybe she will change her mind if you give her a pretty style before she starts her school years.
This game does not yet have any comments!