What did you think of this game?
Another Me
Dress up, Make up
Another Me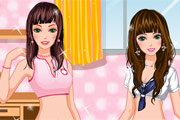 Adriana is my best friend. We look so much like each other that everyone thinks we are sisters It is not easy to find a friend very similar to you, I am so lucky
This game does not yet have any comments!