What did you think of this game?
Apple Jam
Cooking
Apple Jam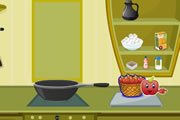 Do you like cooking and eating delicious apple jam Well, if you do, this cool cooking game is for you Prove your talents by making the most delicious apple jam ever Lets go in the kitchen and prepare this yummy stuff Choose the ingredients you need by following the instructions given by the little magic apple that is going to help and teach you how to make the jam. First of all, you will have to pick up some apples, cut them, boil them and mix them, then add all the other ingredients needed. Enjoy
This game does not yet have any comments!