What did you think of this game?
Autumn in Colors
Dress up
Autumn in Colors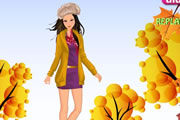 Autumn officially comes with cold and windy weather. Better get some layered clothing before you may catcher a cold. Prepare for yourself sweaters, coats, jackets, leggings.... to enjoy nice autumn weather
This game does not yet have any comments!