What did you think of this game?
Autumn in Paris
Dress up
Autumn in Paris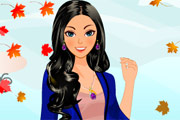 Helen is enjoying the autumn in Paris This is a perfect timing, because Paris is one of the most romantic cities and it looks dreamy in autumn. She can also discover the new trends of fashion you know that Parisian fashion sense is great
This game does not yet have any comments!