What did you think of this game?
Aztec Clothing
Dress up
Aztec Clothing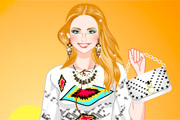 Nowadays Aztec inspired items are very popular over the world. Their ancient and exotic patterns look so good on tshirts or dresses though. Now Angel is in her travel in South America and your job is to prepare her with these pretty Aztec inspired clothes
This game does not yet have any comments!