What did you think of this game?
Baby Boy Crib Styling
Dress up, Baby
Baby Boy Crib Styling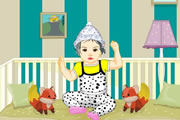 Our cute little Tom is ready for his favorite cartoon show in the television. For some reason the show is delayed and he is fed up. Dress him up and help him with toys before he turns preppy because of the delay in telecast. Show is going to start in few minutes, stay tuned
This game does not yet have any comments!