What did you think of this game?
Baby in the Snow
Dress up, Winter
Baby in the Snow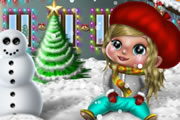 This lovely girl is celebrating her Winter Holiday at a lake cabin. Its cold but she still wants to look fashionable in case she meets a cute ski instructor. Help this girl try on all new winter fashion items until you find the perfect outfit. She has to look great for the holiday parties and winter activities. Take your time to help her look her best.
This game does not yet have any comments!