What did you think of this game?
Baby Room Decoration
Decorating
Baby Room Decoration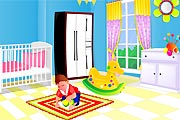 A newborn baby is as vulnerable as he is cute. The babys room should both reflect the familys and the babys daily habits and be safe as much as possible. Do you think you can design such a room
This game does not yet have any comments!