What did you think of this game?
Baby Time
Dress up, Baby
Baby Time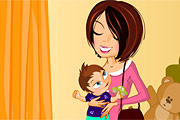 This new mother had to leave her job to take care of her newborn baby boy full time. And she is very happy with this decision She loves spending time walking in the park with her baby. Do you want to join them
This game does not yet have any comments!