What did you think of this game?
Baby Twins game
Dress up, Baby, Couple
Baby Twins game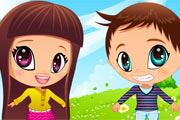 Britney and Brian are smiling for a baby magazine photo shoot They want to look adorable, so they need a good stylist. And I am sure that you can make them look cute. But dont forget, twins like matching clothing
This game does not yet have any comments!