What did you think of this game?
Back to Cheer
Dress up, Sports
Back to Cheer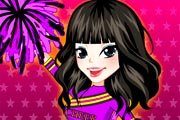 The new school year means new classes, new teachers and new activities How about being a part of the cheerleader squad Do an exercise plan and learn some cheerleading tips. You also have to impress the judges, so remember to get the best cheerleading clothes
This game does not yet have any comments!