What did you think of this game?
Bacon Lettuce Tomato
Skill, Fun, Cooking, Sandwich
Bacon Lettuce Tomato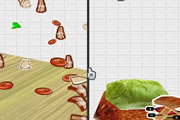 Build Bacon Lettuce Tomato sandwiches as fast as you can Make 5 and you win Make sure you build them in the proper order 1.Bread, 2.Lettuce, 3.Tomato, 4. Bacon 5. More Bacon 6. More Bread Collect special Tasty 8220Fixins8221 along the way
This game does not yet have any comments!