What did you think of this game?
Beach Pedicure game
Manicure, Pedicure, Nail
Beach Pedicure game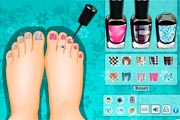 Your feet need to look their best for a beach vacation. Style your toes and feet so that they look as good as possible for some vacation fun in the sun. Do not forget your sunblock
This game does not yet have any comments!