What did you think of this game?
Beach Twins
Make up, Makeover, Dress up
Beach Twins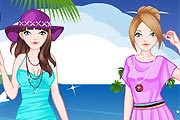 We are twins and we want to be different from each other so when we go to the beach for a game of beach volleyball or just to sunbath with friends, we wont be mistaken for the other twin. Would you please help us
This game does not yet have any comments!