What did you think of this game?
Bella and Sarah Luxury Life
Make up, Dress up
Bella and Sarah Luxury Life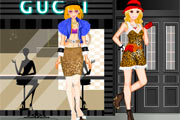 Bella and Sarah know each other since more than 10 years and they are still best friends. They are very rich so that they often go to shopping together, as today. Tonight is very important for Bella and Sarah, because they will attend a fashion party and they have to look gorgeous Could you choose the right dresses for them
This game does not yet have any comments!