What did you think of this game?
blopper game
Action, Shooting, Bloons, Exclusive
blopper game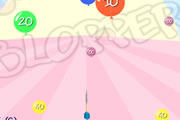 In Blopper you8217ll have to pop as much balloons as possible with your darths. Throw the darts in the air and let them pop the balloons, smaller balloons give more points. There are 3 types of bonusballoons, which will give you time, extra darths or
This game does not yet have any comments!