What did you think of this game?
Catscratch game
Action, Adventure, Advergaming
Catscratch game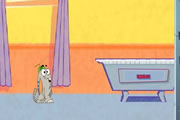 Mecha cats are trying to kick our heroes out of the house. Help Waffle find all the parts needed to build a Robot Super Cat. Destroy and kick all bots to earn and obtain more gears. You may also collect for caviar for your health. Good luck and have fun
This game does not yet have any comments!