What did you think of this game?
Charming Manicure game
Nail art, Design, Nail
Charming Manicure game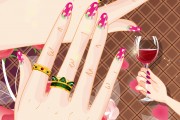 Think that your nails dont deserve a care Then, lets go a perfect nail art saloon and have a nice nail care. Here, people make a charming manicure, do you know that Okay, well before start it, just try all these nail polishes and accessories. Maybe youll want the same thing
This game does not yet have any comments!