What did you think of this game?
Chinese Wedding Make Up
Wedding, Bride, Make up
Chinese Wedding Make Up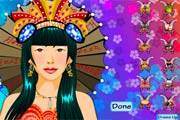 Chinese wedding has some interesting traditions. Every bride wear a traditional cap and perform a song on their marriage. Thats why they have to look splendid Give a hand to this cute bride to choose the best cap and gown, than put her on make up.
This game does not yet have any comments!