What did you think of this game?
Christmas Girl Makeover
Makeover, Xmas, Dress up, Holiday
Christmas Girl Makeover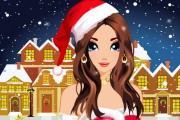 Have you decided what to wear at this years Xmas party Wow It sounds perfect, well, then you need to now decide your makeover here there are lots of options. Just try all out and choose the best one
This game does not yet have any comments!