What did you think of this game?
Cup 'N' Cake
Skill, Fun, Cooking, Cafe, Food serving, Restaurant
Cup 'N' Cake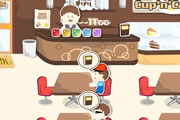 Prepare and serve game in which you have to accomodate and serve your customers with drinks and cake. Upgrade your shop and try to become the most popular cafe by reaching your daily goals, and buying the right upgrades
This game does not yet have any comments!